CNR Institute of Neuroscience
Padua, Italy
Giorgio Carmignoto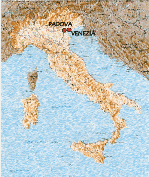 Brief description and aims of work
Our group belongs to the National Institute of Neuroscience of the National Research Council (CNR), the main public research organization in Italy, and is also associated with the Department of Experimental Biomedical Science of the University of Padua.
Since 1994 the central theme of our research is the study of the role of astroglial cells in the brain. Over the last decade our work contributed to the identification and characterization of new roles of astroglia in brain function (for reviews, see 1,3,11,12). As a multidisciplinary experimental approach, we use patch-clamp recording, laser scanning microscopy, and calcium imaging techniques in cell cultures as well as brain slice preparations.
Our overall aim is to further characterize the reciprocal communication system between neurons and astroglia.
Specific aims are the following:
To identify the signalling molecules involved in neuron-astroglia interaction
To define the spatial-temporal features of this signalling pathway in brain slice preparations and in vivo
To characterize further the molecular mechanism of the astroglial control of cerebral blood flow responses
To verify the pathological consequences in the brain of a defective neuron-astroglia signalling
Previous findings
In 1994 we showed that astroglial cells express a form of cellular memory, i.e., a property once though to be exclusive of neuronal cells (16).
In 1997 in hippocampal and visual cortex slice preparations we provided the first evidence for the ability of astroglial cells to be activated by neurotransmitter synaptic release and to signal back to neurons by releasing the gliotrasmitter glutamate (14,15).
| | |
| --- | --- |
| | This movie illustrates the response to Schaffer collateral stimulation of a hippocampal astrocyte from a slice loaded with Indo-1 AM. Note the repetitive Ca2+ elevations that remain restricted to portions of distal processes. The Ca2+ responses can also spread intracellularly to include the astrocyte soma and the other processes. The presence of multiple sites of Ca2+ elevations suggests that each spot represents an independent compartment of Ca2+ signalling. |
In 2001 we confirmed that astroglial cells release glutamate through a Ca2+-dependent, vesicle-mediated mechanism (4,10).
In 2003 our work revealed a new function of astroglia as central mediators of functional hyperemia, i.e., the activity-dependent regulation of cerebral blood flow (9; according to ISI Thomson, Zonta et al. Nat. Neurosci. 2003, is one of the most cited recent papers in the field of Neuroscience & Behavior).
Astroglia mediate neurovascular coupling
The synaptic release of neurotransmitters activates Ca2+ elevations in astroglial processes that, after intracellular spreading to endfeet, regulate vasoactive agent release to control arteriole tone.

In 2004 we showed that astrocytic glutamate can generate neuronal synchrony by acting on extrasynaptic NMDA receptors (5,6). This observation represents one of the fundamental premises that lead to formulate the hypothesis of an astroglial role in epileptogenesis.

| | |
| --- | --- |
| | Time-lapse movie of the [Ca2+]i changes in pyramidal CA1 neurons following Schaffer collateral stimulation. After stimulus cessation, note the synchronous response of a domain composed by eight pyramidal neurons that was evoked by glutamate released from astroglia. The timing for acquisition of each frame is reported. Acquisition rate, 1 s. |
Along this line, we recently found that epileptic form activity in various brain regions (hippocampal CA3 and CA1 and somatosensory cortex) results in a strong activation of calcium oscillations and glutamate release in astroglia. We also showed that by acting on NMDARs this astroglial glutamate depolarizes neurons enough to trigger action potential firing that has the potential to contribute to the widespread, synchronous neuronal discharges typical of seizures (2,7).
Implications of our research
The emerging view attributes to astroglial cells distinct roles in important functional processes in the brain. We need now to proceed rigorously to confirm in vivo the results that have been obtained in in vitro experiments. We also need to address the intriguing possibility that a defect in the multiple actions of these glial cells contributes to the genesis and/or development of brain disorders such as epilepsy, stroke, migraine, schizophrenia and Alzheimer's disease. Results from the new studies will clarify whether or not these cells could be potential targets for the development of novel, more efficacious, therapeutic approaches for these diseases.
Selected references
Gómez-Gonzalo M, Losi G, Chiavegato A, Zonta M, Cammarota M, Brondi M, Vetri F, Uva L, Pozzan T, de Curtis M, Ratto GM, Carmignoto G. (2010) An excitatory loop with astrocytes contributes to drive neurons to seizure threshold PLoS Biol. 8:e1000352.
Losi G, Cammarota M, Chiavegato A, Gomez-Gonzalo M, Carmignoto G. (2010) A new experimental model of focal seizures in the entorhinal cortex Epilepsia 51 :1493-502.
Carmignoto G, Gómez-Gonzalo M. (2010) The contribution of astrocyte signalling to neurovascular coupling Brain Res Rev. 63:138-48.
Seifert G, Carmignoto G, Steinhäuser C. (2010) Astrocyte dysfunction in epilepsy Brain Res Rev. 63:212-21.
Haydon PG, Carmignoto G (2006) Astrocyte control of synaptic transmission and neurovascular coupling. Physiol. Rev. 86:1009-31.
Fellin T, Gomez-Gonzalo M, Gobbo S, Carmignoto G, Haydon PG (2006) Astrocytic glutamate is not necessary for the generation of epileptiform neuronal activity in hippocampal slices. J. Neurosci. 26:9312-22.
Carmignoto G, Fellin T (2006) Glutamate release from astrocytes as a non-synaptic mechanism for neuronal synchronization in the hippocampus. J. Physiol. (Paris) 99:98-102.
Crippa D, Schenk U, Francolini M, Rosa P, Verderio C, Zonta M, Pozzan T, Matteoli M, Carmignoto G (2006) Synaptobrevin2-expressing vesicles in rat astrocytes: insights into molecular characterization, dynamics and exocytosis. J. Physiol. (Lond.) 570:567-82.
Fellin T, Pozzan T, Carmignoto G (2006) Purinergic receptors mediate two distinct glutamate release pathways in hippocampal astrocytes. J. Biol. Chem. 281:4274-84.
Fellin T, Pascual O, Gobbo S, Pozzan T, Haydon PG, Carmignoto G (2004) Neuronal synchrony mediated by astrocytic glutamate through activation of extrasynaptic NMDA receptors. Neuron 43:729-43.
Fellin T, Carmignoto G (2004) Neurone-to-astrocyte signalling in the brain represents a distinct multifunctional unit. J. Physiol. (Lond.) 559:3-15.
Zonta M, Sebelin A, Gobbo S, Fellin T, Pozzan T, Carmignoto G (2003) Glutamate-mediated cytosolic calcium oscillations regulate a pulsatile prostaglandin release from cultured rat astrocytes. J. Physiol. (Lond.) 553:407-14.
Zonta M, Angulo MC, Gobbo S, Rosengarten B, Hossmann KA, Pozzan T, Carmignoto G (2003) Neuron-to-astrocyte signaling is central to the dynamic control of brain microcirculation. Nat. Neurosci. 6:43-50.
Pasti L, Zonta M, Pozzan T, Vicini S, Carmignoto G (2001) Cytosolic calcium oscillations in astrocytes may regulate exocytotic release of glutamate. J. Neurosci. 21:477-84.
Araque A, Carmignoto G, Haydon PG (2001) Dynamic signaling between astrocytes and neurons. Annu. Rev. Physiol. 63:795-813.
Carmignoto G (2000) Reciprocal communication systems between astrocytes and neurones. Prog. Neurobiol. 62:561-81.
Carmignoto G, Pasti L, Pozzan T (1998) On the role of voltage-dependent calcium channels in calcium signaling of astrocytes in situ. J. Neurosci. 18:4637-45.
Bezzi P, Carmignoto G, Pasti L, Vesce S, Rossi D, Rizzini BL, Pozzan T, Volterra A (1998) Prostaglandins stimulate calcium-dependent glutamate release in astrocytes. Nature 391:281-5.
Pasti L, Volterra A, Pozzan T, Carmignoto G (1997) Intracellular calcium oscillations in astrocytes: a highly plastic, bidirectional form of communication between neurons and astrocytes in situ. J. Neurosci. 17:7817-30.
Pasti L, Pozzan T, Carmignoto G (1995) Long-lasting changes of calcium oscillations in astrocytes. A new form of glutamate-mediated plasticity. J. Biol. Chem. 270:15203-10.
Past and present collaborations
Alfonso Araque · Instituto Cajal, CSIC, Madrid, Spain
Marco de Curtis · Clinical Epileptology and Experimental Neurophysiological Unit, Istituto Nazionale Neurologico "Carlo Besta", Milan, Italy
Philip G. Haydon · Department of Neuroscience, University of Pennsylvania, Philadelphia, USA
Lamberto Maffei · Scuola Normale Superiore, Pisa, Italy
Adalberto Merighi · Department Morphophysiology, University of Turin, Grugliasco, Italy
Michela Matteoli · Cellular and Molecular Pharmacology Center, University of Milan, Italy
Gian Michele Ratto · Istituto CNR di Neuroscienze, Pisa, Italy
Flora Vaccarino · Child Study Center, Yale University, New Haven, CT, USA
Stefano Vicini · Department of Physiology and Biophysics, Georgetown University, Washington D.C., USA
Andrea Volterra · Département de Biologie Cellulaire et de Morphologie (DBCM), Université de Lausanne, Switzerland